About the International Baccalaureate at Tesla
Tesla Education is a candidate school for the International Baccalaureate (IB) Primary Years Programme PYP (KG – Grade 5) Middle Years Programme MYP (Grade 6 – Grade 10) and Diploma Programme DP (Grade 11 &12). Tesla is the only school teaching the International Baccalaureate (IB) in Tan Binh District.
Tesla Education is unique in providing an integrated international curriculum, combining both the high standards set by the National Curriculum (NC) with the rigorous international standards of the IB organization. This is a unique teaching and learning method with flexible content to meet modern educational requirements.
The Virtual Talk "It's Never Too Early to Prepare Your Child for University"
The ultimate goal of 12 years of study is to prepare your child for university. As a parent, have you ever thought about the right time to start planning for that milestone?
The "It's Never Too Early to Prepare Your Child for University" virtual talk
by the panel of experts organized by Tesla Education with enthusiastic participation from parents. Our panel consists of:
Mr. Faizol Musa (Development and Recognition Manager for South East Asia IB Organization)
Mr. Tim Vanderpool (Director of Studies Tesla Education)
Dr. Christopher Poole-Johnson (Lecturer of Business Communications University Western Sydney VN)
Ms. Sandy Lee (Student Kings College London)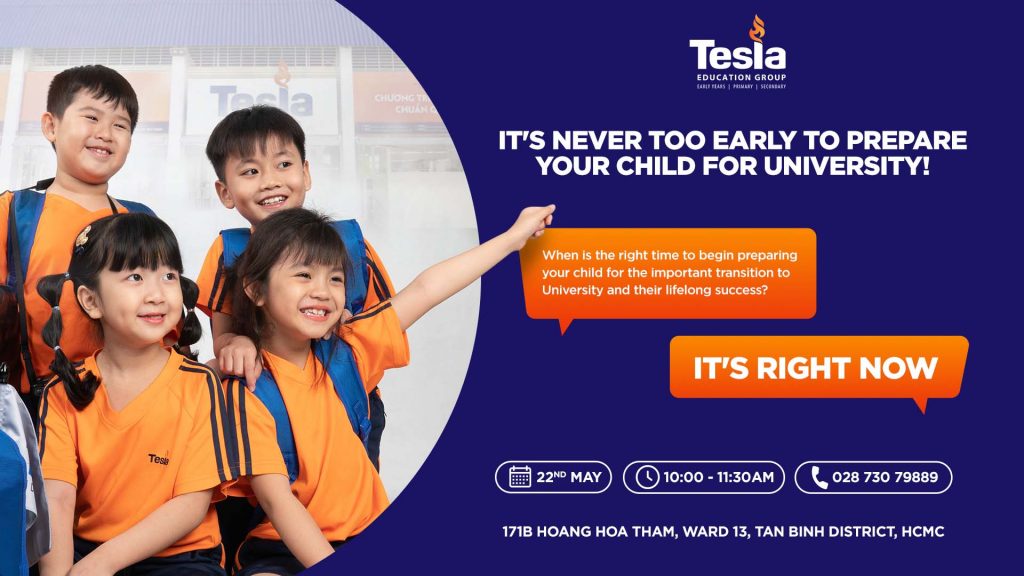 We are very pleased to have the expertise of
Mr. Faizol Musa – Development & Recognition Manage for South East Asia IB Organization
. Mr. Musa will provide parents with an overview of the International Baccalaureate curriculum, the what and why it is considered to be the best approach to learning. Next we listen to
Mr. Tim Vanderpool – Director of Studies Tesla Education
. Mr. Tim Vanderpool will enable an understanding of why Tesla has chosen to integrate IB and MOET, how it is done and what are the positive impacts on student outcomes. We are honored to have the expertise of
Dr. Christopher Poole-Johnson
. Dr Poole-Johnson is the Director & Chief Academic Officer Windsor-Essex Education & Development company & Lecturer Of Business Communications University Western Sydney VN. Dr. Poole-Johnson will give us some understanding from the university perspective to student recruitment and why for 21st century success, students need to already be empowered, independent learners, prior to entering university. We are grateful to hear directly from a student who has made these transitions of which we are focused on –
Ms. Sandy Lee,
3rd year Student of Kings College, London. Ms Lee had attended a country curriculum school and then entered an IB World School early in Middle School.  She graduated that school successfully with an IB Diploma and was accepted to and in her 3rd year of study at Kings College in London.  Kings College is 7th highest profile university in the UK and ranked 31st worldwide. Sandy will tell us of her transition from a country curriculum to the IB, what she feels she gained and how she believes that it prepared her for the next phase of her Education.
Questions and Answers for Virtual Talk
MYP Information and Scholarships
As we announced earlier, due to the complicated situation of the Covid-19 pandemic, Tesla changed the "Scholarship Information Morning" event into the "Virtual Information Day" (online seminar) on December 5, 2020.
The seminar took place with presentations and answers to parents' questions from Mr. Robin Kylmow (Director of Studies), Ms. Nguyen Thi Huong Trung (Executive Head of School) and Ms. Christine Byrne (Director of Admission).
This was the special opportunity for the Education Board to provide parents with essential information about the International Baccalaureate Middle Years Programme (MYP) at Tesla. We also communicated to parents about the curriculum, the educational environment, the teaching and learning methods. Most importantly, the MYP scholarship, offering 25% to 100% of the fees, was introduced to parents and students. It serves as a chance for students to "compete" positively, so they can embark on a successful learning journey.
Tesla is very happy to receive lots of questions and attention from parents. However, due to the time constraint, Tesla Education Board was deeply sorry for not being able to answer all of your questions during the seminar. Replies for remaining questions will be emailed to you by the Admission Office.
---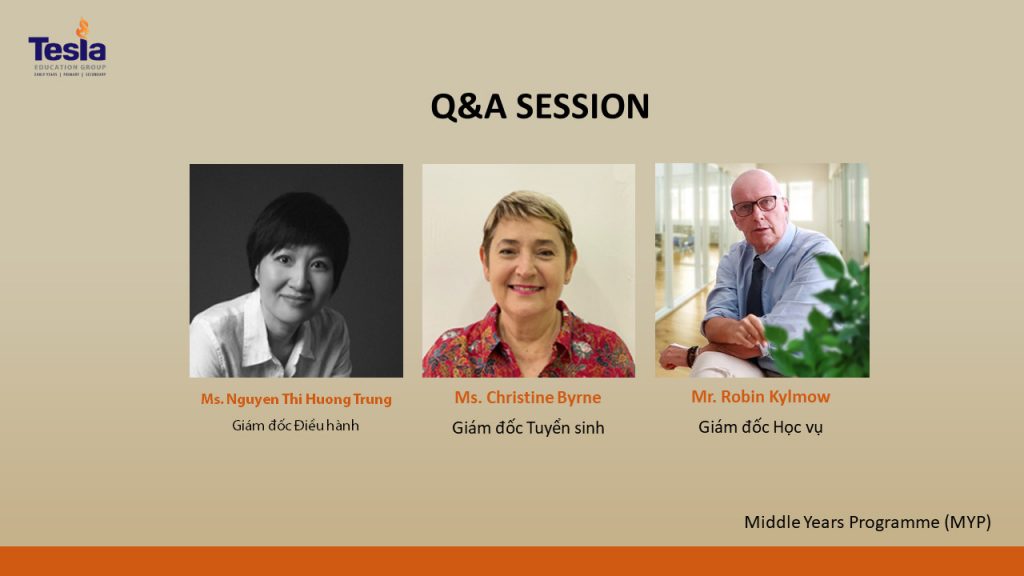 Questions and Answers for MYP Virtual Information Day
---
1. Does MYP follow the MOET (Vietnamese Ministry of Education & Training) curriculum, or does it follow any curriculum from the UK or the USA?
MYP itself is very flexible in adapting the educational content. Tesla currently follows the MOET curriculum, with integration of reputable international programs. However, when speaking of the MOET curriculum, be noted that it has been carefully selected and curated to fit the MYP criteria.
2. How long does the scholarship last?
The scholarship is valid for 1 academic year. Every year, based on the students' academic performance and their contribution to TESLA community, the Board will consider granting further scholarships.
3. Do the students need to be proficient in English?
Tesla does not require students to be proficient in English at the beginning. However, after being in Tesla and graduating as IB students, they can use English very fluently. Tesla already has EAL (English as Additional Language) course in its curriculum.
4. Do the students need to pay any fee for scholarship eligibility assessment?
Yes.
2 million VND shall be paid for scholarship eligibility assessment. It is to cover for the assessment tests, as well as the supporting teachers during the entrance tests.
5. I would like to ask about the teachers. How do you train the teachers to teach both MOET and IB curriculum?
IB teachers need to have IB-approved professional development in the form of online or on-site regional workshops.
In addition, there are professional development programs for the Head of School, and the Board of Governors. It is, therefore, the coordinator's responsibility to ensure all IB teachers are trained accordingly.
Tesla also organises weekly in-house training and provides teachers with 4-5 periods in the schedule for programme planning. It is to ensure that all teachers have opportunity to share IB experience and methods, so that they can fulfill requirements from both IB and the MOET.
6. In what grade can my child start learning MYP?
Any grade would be suitable. However, admission for Grade 6, 7, 8 starts from January 2021. Grade 9 shall wait until July 2021.
7. Does Tesla grant scholarships every year?
Tesla does grant scholarships annually. The number of scholarships granted every year by the Board of Governors will depend on the number of enrolled students in that year. The final result will be published at the end of the admission period.
Admission application à Scholarship eligibility application à assessment by the Education Advisory Board à decision by the BOG for scholarships in that year, usually at the end of March when the admission has been closed.
For this year, the second scholarship season will end on 15/01/2021.
8. How can I know if my child can be successful with MYP?
MYP helps students develop their abilities. We will try our best to identify and support your children in succeeding with MYP, through the use of the entry evaluation test, the assessment interview, the records and the academic transcripts provided by the parents.
9. What universities in the world recognize the IB diploma?
The IB diploma is widely recognized by thousands of colleges and universities all over the world. You can access the IBO website for more information.
https://www.ibo.org/university-admission/recognition-of-the-ib-diploma-by-countries-and-universities/
10. Which grade is most suitable for starting MYP?
Please refer to question no. 6
11. What advice can Tesla give to students previously granted scholarships but failed to get one for the next year?
Mr. Robin Klymov: Your question about scholarship extension is a good one. Our eligibility tests and interviews for scholarships are very challenging, so we believe if a student is dedicated enough to be granted scholarship once, they would certainly keep getting scholarships every year.
12. When I no longer have enough money to send my child overseas after they graduate with IB diploma, would they still be able to get into Vietnamese universities?
Vietnamese universities having joint educational programmes with international universities all accept IB graduates, including public universities such as Open University, University of Technology,…
Admission Office will send the list for IB-welcoming universities to parents.
13. What makes Tesla MYP stand out from other schools'?
Tesla MYP is a unique teaching and learning methodology, with flexible curricular framework to satisfy all teaching requirements from Vietnam and the world. It promotes an integrated interdisciplinary curriculum with 8 subjects, in which Tesla still offers Vietnamese Language & Literature as the first language, and English as the second language. Social science subjects like History, Geography are taught in Vietnamese to enrich students' knowledge in Vietnamese culture and history.
Grade 10 students will take the E-Assessment exam to get MYP certificate. MYP students shall have a smooth transition to IBDP, which will provide them with optimal preparation for universities.
14. My child is in Grade 6. Please tell me how I can apply for scholarship.
To facilitate and promote student filial traditions, Tesla Education will offer a number of scholarships to new and current students with outstanding achievements, who enroll for Grade 6 to Grade 8, starting from Semester 2 of 2020 – 2021.
Here's how to apply:
Step 1:
Fill out the Admission Application and pay the Admission Fee.
Fill out the scholarship application form.
Step 2: Submit the application form at the school Admissions Office along with other relevant documents.
Deadline: Scholarship application deadline – Friday, 15th January, 2021.
Step 3: Eligibility Test: All applicants who meet the academic requirements will be invited to participate in the scholarship eligibility test. The test is GL Assessment in English.
Step 4: Interview with the Principal/Vice Principal: For qualified candidates succeeding in the eligibility test.
Step 5: Result announcement: Excellent candidates with good results after 2 rounds of tests will receive scholarship announcement on February, 1st, 2021.
15. My child currently studying at a public school is good at all subjects except English, which he/she falls behind compared to other students at international schools. Is English a prerequisite for learning MYP? Does the school offer any activity to improve students' English proficiency?
Mr. Robin Klymov: We do not expect children to be fluent to enter. We have made a timetable that not only teaches lots of English but we have added extra intensive English to support children in Tesla. That way we know children can improve their English as well as succeed in the other MYP subjects.
16. Can a student go to another school at the end of the MYP program, Grade 10, with the MYP certificate?
In order to receive the MYP certificate, a student must complete at least the Grade 10 programme with 6-8 MYP interdisciplinary subjects. Once recognized for finishing the Grade 10 MYP program, students will receive their academic transcripts and the MYP certificates, recognized by every different curriculum.
17. If my child receives a scholarship this year, will the school hold an examination in the following years to grant further scholarships?
Ms. Trung: We believe that if a student is dedicated and does well every year to get good grades, the scholarship will continue with this student. Every year, Tesla grants scholarships to sponsor outstanding students. Schools and families should support students to achieve good academic results.
Tesla not only focuses on learning, but also develops gifted students. Therefore, the school will consider talented students in areas such as painting, sports, public speaking… Thus, to award scholarships, in addition to academic performance, the school also considers the student's contribution to the school environment.
18. What is the difference between IB MYP and A Level. In what ways is MYP superior to A Level?
Mr. Robin Klymov: The big difference between A-level and the IB in the IB DP in particular is that the IB expects a lot more that is why IB is so well-recognized in many universities, even in Vietnam.
Vietnam is becoming very progresses in recognizing the IB as few universities within the country like IB and accepted.
The big difference I think between A-level and IBDP is the students are asked to think more, and they're asked to work independently. And those two things, thinking and working independently is what universities/ what we all want really as an employer we want that from our students. And A-level don't do that as much and that's why many people are moving away from A-level to IB and that continues particularly in countries like Singapore and then further in Indian. A-level is very popular and now they are not, and that coming from British Council.
A Level would be quite similar to the Vietnamese curriculum, in which a syllabus is necessary. For example, teaching Math involves a fixed number of hours: what to do for period 1, period 2, period 3…The problem is when going into specialization, students have no chance for research, academic independence, and especially physical and mental development. They study like "bookworms.
We cannot say for certain, between IB and A Level, which is the better curriculum. We have to acknowledge the advantages of each program, since every curriculum, including MOET, is good in its own way. I will only share the advantages of the IB program.
Besides the advantage of students going into deep research, many of the world-class universities also welcome IB students for their independence, as well as academic development and creativity. From the very beginning, students are equipped with essential research skills from K to G-12, with Personal Project starting at G-9, and Extended Essay at G11-12. That's why universities always welcome and prioritise IB students. Preparation for universities also start sooner with IB students, as they have academic transcripts and predicted grades since grade 10 or 11, which serve as a criterion for evaluation.
The chances of IB students entering a university are very high because if a student following the MOET programme has to finish the high school programme in order to take the exam / apply for university, then an IB student in Grade11 has to complete the subjects that they plan to study in Vietnam or overseas. All IB schools have career counseling, orientation, and university selection, including Vietnamese schools. For example, RMIT, Vietnam-Germany University always goes to IB schools to attract IB students. As such, we can see university priorities for IB students.
Both students in the DP and the PYP, MYP are well equipped from the very beginning, not waiting until grade 11-12. However, we can see that some students in public schools when transferring to IB schools, will also have specific student support. Students transitioning from Vietnamese kindergarten to grade 1 can rest assured because schools that teach the IB program, including Tesla, have transition orientations that are very well prepared for students and parents.
19. What benefits will my child gain when transitioning from MYP to IBDP, as opposed to MOET to IBDP at Grade 11-12?
Mr. Robin Klymov: I think that there are two things I want to mention here. Of course, some students do enter the DP in Grade 11 and they can do so well. But, it is much better to come into the MYP because they are gaining skills and the academic English is so important for DP. So, students join in in Grade 11, they really struggle in Humanity subject, Science subject. They can be fine in Vietnamese of course and the English is quite good for the English B. But, they haven't got the thinking, they haven't analysed and evaluated enough. I always recommend that students should join the MYP schools wherever they are in the world, because sometimes DP is so hard for some students.
In addition to Personal Project, another skill worth mentioning is Critical Thinking. Together they will improve students' English and prepare them for Grade 11. That being said, it does not mean every student will have difficulty. Students in gifted schools such as Le Hong Phong, Tran Dai Nghia are very good in English, but they are not well trained in the field of Critical thinking and research skills. They need time for transitioning and adapting to a new, independent learning method.
They will also engage in community service and sharing. International universities are not only looking for students with excellent academic records, but also those who contribute a lot during their high school time. Among the key concepts of MYP is learning through experiencing social and global issues.
20. How are the other subjects (besides EAL) taught to my child?
There are 8 interdisciplinary subjects, with specific IB criteria and requirements:
– Language and Literature
– Individuals and Societies
– Language acquisition
– Mathematics
– Sciences
– Arts
– Design
– Physical and Health Education
21. Can Tesla IB students transfer to other public or private schools? If not, what school can they go to?
Ms. Trung: Tesla IB students (MYP, PYP, DP) are free to transfer to other public or private schools. Tesla follows IB course framework is no different than other IB schools.
With public schools, as you can see, we teach in Vietnamese and offer English as a subject. Half of Tesla's curriculum is based on the MOET curriculum, so that students can learn Vietnamese along with English, as developing mother tongue is critical for young learners. It also lays foundations for Vietnamese Language & Literature subject in the MYP & DP.
Tesla can assure parents that your children in Grade 5 will have no problem transferring to other public or private schools, because our teaching curriculum is not very different from the MOET requirements. However, the learning methodology is very different. That is the first thing. IB always recognises and welcomes national programmes all over world, instead of abolishing those programmes. When it comes to this, other programmes won't have the same mindset as IB. For example, for Grade 6 to 12, we have a 5-year IB MYP from Grade 6 to 10. For Grade 6 to 8, parents can also transfer their children to other schools. The students can still follow the public school programme but they will be given more opportunity because they are good at English, have creative and critical thinking, are independent in learning.
Going back to public schools would be easy, but in Grade 9-10, parents should consider carefully because Grade 9 is part of the Grade 6-10 MYP, but in Vietnamese programme, it is the end of the secondary high school, so they have to take the graduation exam. Therefore, if you want them to continue Grade 9-10 as a pre-IBDP step, it is important to think whether you should transfer your children to other schools. If you do transfer, they have to take the graduation exam, losing their learning continuity. The Admission Office will make the IB roadmap very clear to parents. In Grade 9-10, it is not advisable to transfer your children to other schools because they need to study and take the E-Assessment exam (internationally recognised). This is very helpful for our children because it serves as a transitional step to DP in Grade 11 and 12. University acceptance, therefore, is not just for overseas schools, but IB students also have better chance than public school students in competing for Vietnamese universities. It doesn't necessarily mean that other schools or programmes are not preparing enough for their students, but this is among various benefits and advantages IB offers to their students.
22. As a parent, what channel can I use to monitor my children's learning progress to support him in time?
Mr. Robin Klymov: ManageBac is being developed at Tesla and we had it for about 3 months now. And over the year, we are going to be able to provide more evidence of learning and that means teacher can actually put some works that students have done like a picture, a diagram or evidence of their writing and then parents can actually see that. ManageBac also provides us with the report, we send the report out for every PYP unit, semester reports, and finally ManageBac helps us with our teacher planning as we test and we go through the unit, and we do it with the MYP as well.
We are planning some details and teachers can look at what they are doing in Grade 3 or grade 4, Grade 6 or Grade 7 and begin to work and plan together, so students gain more understanding. ManageBac is very big system. We don't get it right straight away. But, we go through a year, we begin to get better practice, and parents can enter and see evidence of learning. But, it's not watching the students 24 hours. It is a very good where we actually keep evidence of learning for parents and of course for teachers.
Only international schools invest in the ManageBac system. Tesla is among those who boldly invested in this system. These are clear evidence that our teachers always work and plan lessons together, helping each other. Tesla also organises weekly Collaborative Planning sessions so that teachers can share opinions and contribute to building better lessons. Teachers always communicate with parents through ManageBac (absence, lateness,…). For academic records, English or Vietnamese subjects will have comments in their respective languages. If parents have any further questions about reports or lessons, they can contact the school through ManageBac. Besides, students can upload their pictures of class activities to share with parents or other classes.
23. I heard that IB students are more independent. Do they have any problem with remote learning under COVID-19?
There should be no problem, as IB students are well equipped with skills of thinking, time management, independent learning. Lessons and lectures will be thoroughly explained, and students can communicate with teacher through ManageBac system. Teachers can also track student progress and provide immediate support through ManageBac system.
24. I heard Tesla saying it is an IB candidate. What does "candidacy" mean? What is Tesla roadmap to become an IB World School?
Mr. Robin Klymov: Yes, the school is a candidate and has two years to meet all the requirements that IB requires. These include: resources, teacher training, policies like language and assessment, and planning the curriculum. All IB schools have to go through the candidate status before they are allowed to become an IB world School.
25. After joining MYP, can my child participate in the MOET secondary graduation exam?
MYP lasts for 5 years, from Grade 6 to Grade 10, and students will take the IB E-Assessment exam in Grade 10. Parents need to be well informed before letting their children into MYP.
26. What qualifications do the MYP teachers have to ensure the quality of teaching?
All MYP teachers need to be experienced in teaching the curriculum. Besides the mandatory pedagogy degrees, they are also required to take part in the annual IB-organised Professional Development programmes.
27. Does Tesla utilise modern technology in teaching and learning? Is the school facility sufficient in ensuring my children's exposure to technology?
Tesla is now integrating several technology subjects into teaching: Artificial Intelligence, Computer Science, using software in supporting Math & English learning. Students are allowed to use Ipads, Tablets, and computers at school. Tesla and parents shall also abide by the safety regulations when using technology equipment.
28. Tesla said that the majority of MYP students proactively engage in self-learning and research? Can you elaborate on the self-learning part? Does it apply to every subject?
Mr. Robin Klymov: I think sometimes, people think that MYP is about self-support, that's not true, that's not accurate because we have the timetable, teachers… But, what is different is that students are encouraged and pushed to think about what answer they might be coming up with. In other words, it is not about self-support, it is about thinking and coming up with ideas. It's not just the way for teachers to tell you.
I think some people think that IB students have to manage themselves to study. I don't think that is the right way to talk about MYP. We should really discuss how MYP supports students.
I often think that some parents and even some teachers who don't know the IB think that students are always doing by project and studying by themselves. That's completely untrue. Students are really pushed, and stressed in MYP, DP. And that makes it such a good programme that universities around the world like it.
Usually, students wait for teachers to teach them before collecting information or wait for teachers to do the work. However, for project-based learning (Project) or research, teachers require students to have time-management skills which means that students manage their own time, have clear regulations and deadlines… Thanks to ManageBac, parents can see deadlines for assignments, and teachers can also remind students to submit assignments on time through ManageBac. As for the research, it is not the students who do it themselves. One of the requirements of the IB program is that the school must have a library, which is a useful tool with the support of the Librarian (or the Teacher-Librarian).
Teachers teach students how to do homework, find useful information and material, helping students to apply these skills to conduct independent research for their projects. These skills are essential and highly appreciated by universities.
---
Please click here to download Q&A.
PYP Information and Scholaschips
On 12th December 2020, Tesla successfully organised the Virtual Information Day – International Baccalaureate Primary Years Programme (IB PYP). This online seminar was particularly helpful for parents with children in the early years, and families wanting their children to follow the International Baccalaureate programme.
The seminar took place with presentations and answers to parents' questions from Mr. Robin Klymow (Director of Studies), Ms. Nguyen Thi Huong Trung (Executive Head of School), Ms. Christine Byrne (Director of Admission), Ms. Nguyen Ha Huyen Kim (Primary Years Coordinator), Ms. Pham Thi Huong Tra (Early Years Coordinator).
Throughout the seminar, Tesla provided parents with important and necessary information about the International Baccalaureate Primary Years Programme (IB PYP). Parents also experienced Tesla creative learning environment as well as our teaching activities in a class period.
Tesla is very happy to receive lots of questions and attention from parents. However, due to the time constraint, Tesla Education Board was deeply sorry for not being able to answer all of your questions during the seminar. Replies for remaining questions will be emailed to you by the Admission Office.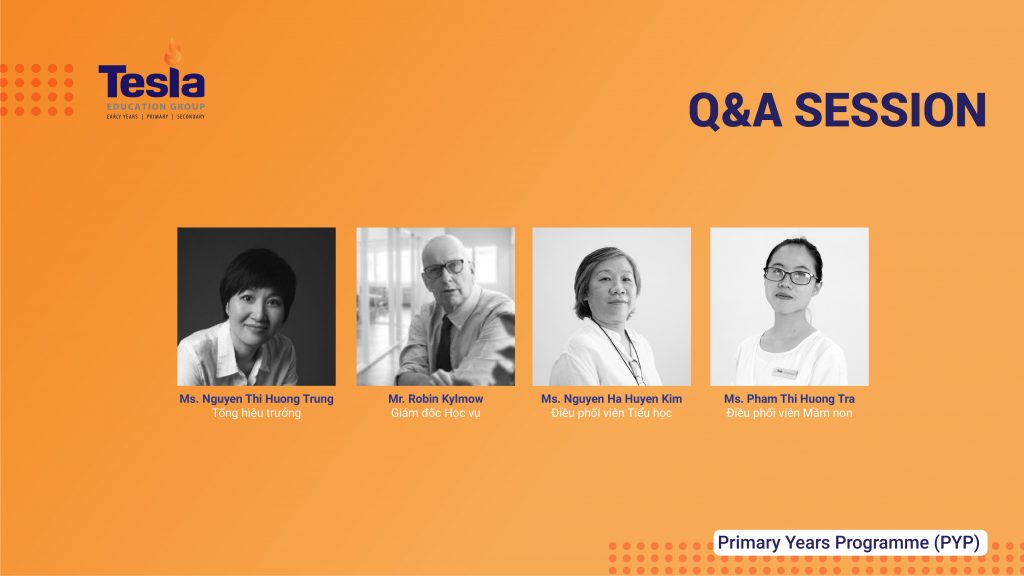 ---
Questions and Answers 
for MYP Virtual Information Day
---
1. Does the International Baccalaureate Primary Years Programme (PYP have specific standards?
Yes, the programme does set detailed standards for subjects BUT requires schools to use those standards through UOI (Unit of Inquiry) to bring about better and longer understanding for the students.
The IB programme has been recognized by international educators and the IB Commission at the same time. Parents can learn more about the IB programme standards on the IBO official website. The IB Diploma is also recognized and prioritized at top schools around the world.
2. Are there studies on the effectiveness of the PYP?
Yes, studies have been done and results show that PYP students are more flexible and open to learning in different ways.
All studies were specifically conducted in many countries. The research results show that IB students have the ability to learn independently, self-control, good time management and are always equipped with necessary skills from kindergarten to grade 12. Therefore, universities around the world are always actively recruiting IB graduates. Parents can find more information at the website: www.ibo.org
3. How are IB teachers training different?
All teachers must participate in IB professional training programmes. Every year, the school must commit to the IBO on a specific budget for the professional development of teachers. At the same time, there will be workshop leader from IB to organize seminars, training, professional development at school or online seminars, distance training, … It is imperative that every teacher teaching IB participate in this programme.
At Tesla, every Monday there are professional development sessions. Weekly collaborative lesson planning is done with comments and opinions from every subject teacher. The PYP Coordinator (Ms. Kim) will be responsible for this, with the assistance of Mr. Klymov – Director of Studies.
There is also support from the IB, helping us participate in experience exchange programmes on document exchange tools and information sharing around the world.
4. Does the implementation of the IB Programme mean that the school won't teach national or local standards?
Tesla is an integrated education school, and is currently a candidate for PYP, MYP and DP programmes. Therefore, students who want to complete the programme are required to meet the IB requirements.
For Kindergarten to Grade 5 students (because there is no test), parents can provide academic transcripts for the children to transfer. From Grade 6 to Grade 8, 70-80% of the curriculim is in English, 30% in Vietnamese, including Literature-History-Geography to help students understand the national culture. From grades 11-12, students are required to study 100% in English (except for Vietnamese).
The final award is the IB Diploma. Therefore, the teaching method and content must meet the requirements and criteria of the IB. However, any IB school has the right to use national / international curriculum or a combination of national and international curriculum.
5. Tesla announced the scholarship programme, can preschool / Primary students apply for this scholarship programme?
We have this policy in place for all students who are already students of Tesla. This policy has been made by the Board of Directors for the outstanding students as stated by the website.
Each year the number of scholarships awarded by the Board of Directors will depend on the number of students enrolled in that year and the results will be announced at the end of the enrollment season.
Application process:
Step 1:
Fill out the Application Form and pay the Application Fee.
Fill out the scholarship application form.
Step 2 : Submit the application form at the school admissions office along with the relevant documents.
Scholarship application deadline: Friday, January 15, 2021 .
Step 3 : Assessment: All successful applicants will be invited to participate in the scholarship assessment test. (GL Assessment Test in English)
Step 4 : Interview with the Principal / Deputy Principal: For qualified candidates passing the assessment.
Step 5 : Result announcement: Excellent candidates with outstanding results after 2 rounds of the competition will be notified by the school.
BOG will make a decision to approve the scholarships issued for that year and usually at the end of March when the enrollment for the new school year has been finalized.
The Tesla Scholarship is open to all students currently studying at Tesla. Currently, there are 10 scholarships for the MYP programme (from grade 6 to grade 10). This is a great opportunity for students to study at Tesla and parents will be supported a part of the cost.
6. Please tell me the advantages of the IB programme?
The International Baccalaureate programme has many advantages. The greatest advantage of the Primary Years Programme (PYP), MYP (Middle Years Programme) and DP (Diploma Programme) is that students are encouraged to become independent learners. I think I wrote about this in the Tesla newsletter this week. Most of the other programmes don't have that; they are academic-oriented programmes like what you and I have experienced at school. I tried to memorize the information, wrote it down on paper and then forgot it.
In the IB programme, as well as in other countries and in Vietnam, how do we create independent students? The IB Diploma Programme is doing just that, for more than 50 years now, more than 10 years for the MYP, more than 50 years for PYP. Independent learning – we haven't really achieved that in many countries or for many students, but IB has already done it through the 10 key features of the curriculum.
7. In the programme, how much time does the student spend with a native foreign teacher?
The time that students study with native teachers is 40 – 60%.
8. How easy is it to switch programmes after graduating from PYP? Is it possible to continue studying in public schools or with schools that have international programmes? If continuing in international schools, which international schools usually have students from Tesla after graduation?
Each school has its own criteria for admission. Currently, all international schools in Vietnam are teaching PYP, MYP or DP programmes. As a result, students who study at Tesla should not have any problems transfering to another school.
If students studying PYP switch to MYP (from grade 6 to 8), the teaching method is IB, and most content can be selected from the programme of the Ministry of Education and Training. If you go back to public school, students from Preschool to Grade 5 should have no problem because Tesla is teaching an integrated programme.
9. When my child enrolls in the PYP, what happens if the family is in financial trouble when he gets to Grade 6, will he or she be able to attend the MOET programme? Does he or she need to be fluent in English to study PYP?
Tesla uses an integrated education programme with some content from the Ministry of Education and Training, but the learning method will help students be more proactive. From grade 6 onwards, students will have no problems studying the MOET programme, and the school does provide support for parents if they want to change schools. However, students already got the proactive attitude after they studied PYP.
Financing is not too big a problem when choosing Tesla. Tesla offers a relatively cost-effective international education throughout the years from grades 1 to 10. Tesla always has scholarship programme for all Tesla students. The Admissions Department will help students get all the information they need.
10. If my child is studying PYP at another school, can I move him to Tesla?
It is very suitable for students in another school to transfer to Tesla. Because in addition to the advantage of the PYP programme, Tesla also applies the essence of the MOET programme into teaching.
One of the IB philosophies is based on the core of national traditions and teaching in the native language. This is perfectly suited for all students, even those with no experience in the International Baccalaureate programme. The academic english course is available, so it is not necessary to master English in advance.
11. If my child is moving in from a public school and English is not good, does the school have an extra language support programme for him?
In addition to the mother tongue, students will learn at least 1 other foreign language. It is not necessary for students to be fluent in English. The Academic English course will help students acquire the language skills (listening – speaking – reading – writing) to keep up with the PYP programme.
12. What are the strengths of the Tesla PYP programme? Are there any comparative advantages that parents can choose from? Looking forward to more advice.
It is probably one of the important questions. It is a key question, so thank you very much for that. The key point about the strengths of Tesla in PYP is partly language. There is a very important concentration of developing the mother tongue Vietnamese, and also developing English. In some schools in Vietnam and other countries as well, the concentration of the programme is in English, and there is less of the mother tongue, and that can make learning for students very hard, and then the mother tounge doesn't develop. So, the number one point is language. Especially in the PYP, we have lessons in English, we have lessons in Vietnamese.
We have Vietnamese teachers, we have overseas teachers, and they are equal and they are in the timetable, nothing seems in second class. Vietnamese is not the second class language. It is not just the language, it is core because as we all well-know that if you don't understand your mother tongue, you can not develop the second language English. It is number one, and number two, Tesla School is owned, controlled in Vietnam. It is a Vietnamese school.
It is not like other international schools that are owned and controlled by London, from Australia and Singapore where they are directing and making the decision about what the programme looks like and try to get a lot of foreigners, and they are competing with each other. Tesla is not in that international ownership. It is controlled from within Vietnam. Therefore, it's responsible for the Vietnamese parents and children can go to that school.
13. What do Preschool students need to prepare to enter PYP? Is it necessary to be literate first?
Preschool students will have a transition programme to enter 1st grade and do not need to be literate first. The PYP principple is to help students not only develop language but also many other skills, among them the ability to communicate. When participating in PYP, students will have many opportunities and means to develop language skills, both in listening – speaking – reading – writing, so it is not necessary to be literate before entering grade 1.
Furthermore, the PYP aims to develop each student's abilities, giving them the opportunity to explore and discover. During Preschool, the students already had the opportunity to explore through playful activities to adjust, build and apply their skills in understanding the world around them. The PYP helps students learn through games, including their choices, encourage them to play a key role in class, providing more opportunities for them to learn important concepts, especially personal preference.
Therefore, parents do not need to worry too much if the child is not literate. Through activities during school hours, children can recognize letters and numbers in both English and Vietnamese.
14. I want to apply for my child in 2nd grade of public school to join Tesla, where will I start and how? Looking forward to your guidance. Thank you.
Students will be interviewed and tested (with a fee) to help the school orient their learning. Registration fee is 2,000,000VND.
Tesla always accepts students for the PYP at various times of the year. The Admissions Department will provide you with more details.
15. Does PYP develop my child's skills? What's the study load? How about exams, tests, results?
The PYP includes not only knowledge but also content about skills development for students. The PYP focuses on developing 5 skills: communication skills, listening – speaking – reading – writing skills, learning skills, self-organizing skills and thinking skills. These are very important skills in the context of globalization.
These 5 skills are developed through every learning activity in school. Teachers will assess students' skills after UOI and update the results on ManageBac (parent-school communication system, especially with homeroom teachers). Parents will also get an overview of the student's progress through the end-of-semester report.
16. Is there any promotion for Preschool students to transition to grade 1?
The transition from Preschool to Grade 1 is an important stage. That's why Tesla offers a lot of promotion for parents with children of this age. Specifically, in semesters 3 and 4, children will learn special content to initially approach the IB programme, being well prepared for entering grade 1. For Preschool students, Tesla is especially interested in language development through learning and playing activities, helping children become familiar with the PYP. Students in the transition stage will be very surprised. Therefore, the school has a Transition Day for the Preschool students to get to know Tesla 1st graders. Schools will inform parents of the specific content of this activity.
In addition, Tesla also has financial promotions for existing students. That is the scholarship programme also applicable to Preschool students, to support parents to let their children study IB at Tesla. The official fee schedule will be announced around January 2021.
17. Is the school planning to progress to higher levels of education? For the children to learn continuously? Does the school open more branches?
Tesla has plans to develop other branches in the HCM city in the future.
18. Would the PYP Programme be interested in skills development for my child? How long? Thank you very much.
IB PYP does not only involve teaching knowledge and presenting students ways to access contents and data. As an inquiry based programme, PYP makes sure the learning and teaching also involves the ATL (Approach To Learning), which means the five groups of skills for students to develop through the learning activities: research skills, communication skills, social skills, thinking skills and self-management skills. These skills are integrated as transdisciplinary through all the subject areas and are considered as an ongoing process to help Primary students develop themselves and reflect throughout the years.
19. My child is in Preschool at Tesla. Does he or she need to take an entrance test when transitioning to grade 1 under the PYP?
Yes. Students will take the transition test to support the school in learning orientation and caring for students.
20. Thank you school, I will be in touch as soon as next week to learn more. I wonder if I can visit directly with my child?
Parents and families are always welcome to visit the school to learn more. Parents can contact the Admissions Department to book a tour or go directly to the school address: Campus 1: 171B Hoang Hoa Tham, Ward 13, Tan Binh District; Campus 2: Golden Mansion, 119 Pho Quang, Ward 9, Phu Nhuan District.
For more information, please contact the Admissions Department at admission@tesla.edu.vn or hotline 098 494 8080.
---
Please click here to download Q&A.
To become a leading education group by giving students a passion for science and technology through developing strong language skills. To provide students with an educational environment that combines the teaching of modern science, technology and education in Western cultures with the Oriental values.